2022 Review!
What. A. Year.
2022 was a year of big changes. Boats. Schools. Schedules. Looking back at my goals, I think I had the right ideas. With so much change this year, it was important to focus on the basics. Whether that was successful or not.. well, let's see.
6 AM
Hahaha. I got up with my kids at 6:50 for school. The whole idea of this was to get ahead of the rest of the world for a little while in the morning. It just didn't happen.
Daily Schedule
On the other hand, I was able to build a regular and recurring schedule with time allocated for focused work, exercise, etc. It wasn't always the best schedule and there was a lot of slop but, in retrospect, that's to be expected. There were some really big schedule and lifestyle changes this year, and whether you think it's true or not, it takes awhile to simply process them.
Aristotle said excellence is a habit though, and I'm comfortable with the starting habits that began to form this year.
Calendaring
This happened a lot and I've built a new system for it. As much as I love paper for some things, I need an easy way to keep a daily list of tasks and topics and that's a daily email to myself every morning and evening. It's a brain dump. A set of cues to rekick the plan the next day. Or a quick review of what happened.
What's so nice about email is that 1) it's easy and ubiquitous and 2) I can keep it forever without it getting in the way. GMail filters and actions are powerful. Anytime I email myself with a subject of "morn" or "eve", it's automatically added to a spreadsheet, marked as read and deleted. The contents are always available in the spreadsheet and my inbox stays nice and clean.
Write 5 Days/Week
Nope. I wrote just under 40,000 words this year. Good, not great. The shining light was a longer essay that was almost half the total word count. It's fun and demanding to write something longer like this. I still want to write a book. Someday.
Workout 5 Days/Week
This was ambitious. According to Strava I averaged between 2-3 runs a week all year and about 7-8 miles/week. That's lower mileage than I'd hope because of plantar fasciitis. I think this is tending back upwards now though.
What else besides running? A friend and I did a 30 day challenge for November: 30 days of 100 pushups and 100 squats everyday. The first few days really sucked. I was doing sets of 20s and feeling rough but by the end it was sets of 40 or 50. On the last day I maxed out pushups for one set and hit 81.
And let's not forget steps. It's easy to forget, but low intensity walking matters.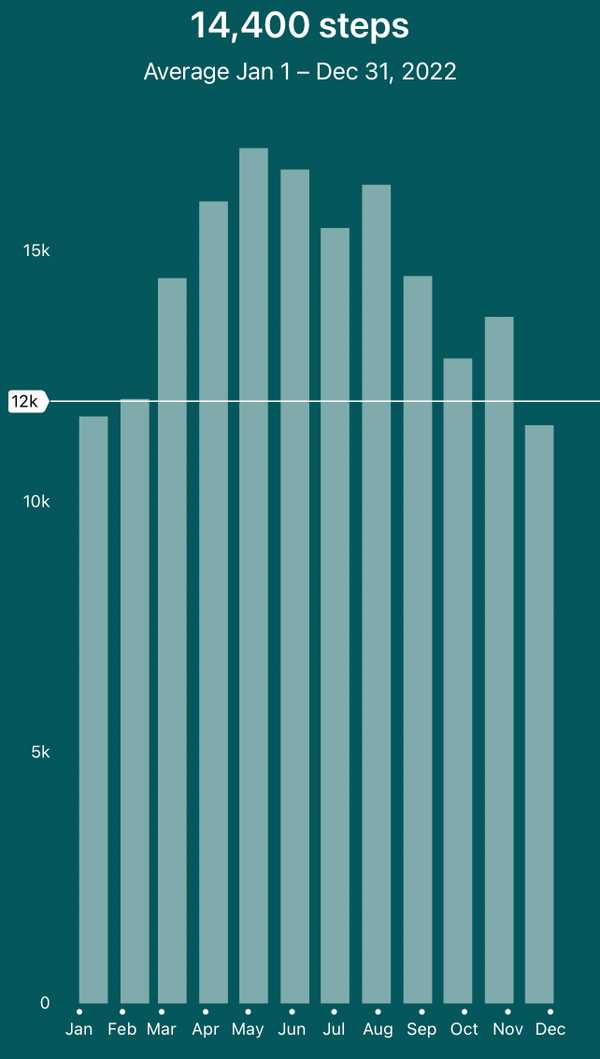 Food
I always seem to get into this very binary mindset where I'm either on or off diet. If I'm off I'm really off. And I mostly seem to be off. Not great. Reset time.
Books
I read 50 books this year. That's a little under the average, but there are a decent number of longer books that I either started and read halfway or finished more slowly than usual. The Rise and Fall of the Third Reich for instance - this monster (1200 pages) will take me a few months more.
Anyway, the number continues not to matter. What matters is maintaining a constant habit of reading. I think it's ingrained into me, but it's so important that I like to keep it top of mind. About a book a week remains the "normal" pace.
Systematize The Workshop
Haha ok, here's the thing. I think I did a pretty good job with this. I built a pretty slick miter saw station, finished the french cleat wall, setup a sharpening station, built a flip cart and a movable wood cart with wheels. And the shop still finished the year looking like this: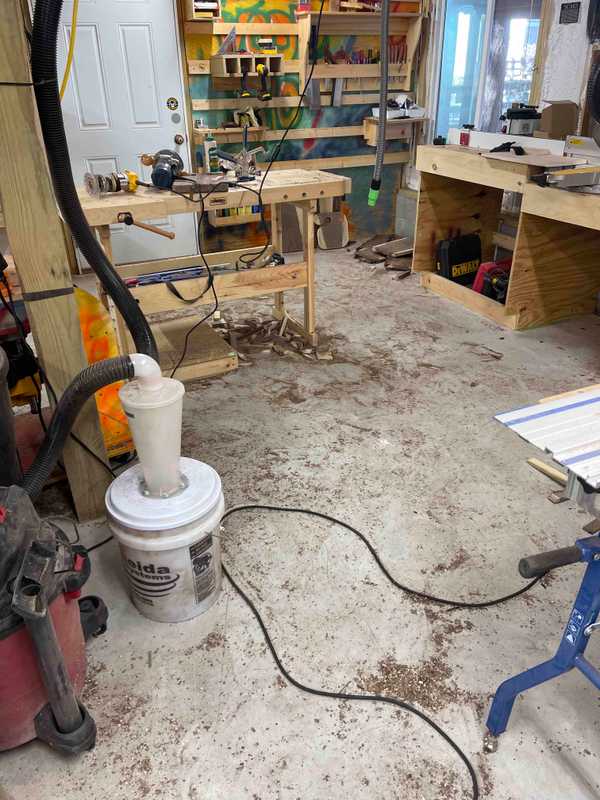 So more to do. But that's the fun of this hobby! No matter how done it is, it's never done. Bandsaw and a real dust collector are incoming.
Speak More
I made an effort to put more out there this year, so I'm declaring this a success. But in the process, I realized more about why I don't like doing it. I just don't think in real-time the way some people do. Writing is pretty tied up in how I think.
Grace
Finally an uncaveated success! Grace is a Crossfit workout that nicely combines strength and cardio. It's 30 reps of clean and jerk of 135 lbs for time. My best before this year was about 5 minutes. In March I did it in 3:20. With a mask on no less.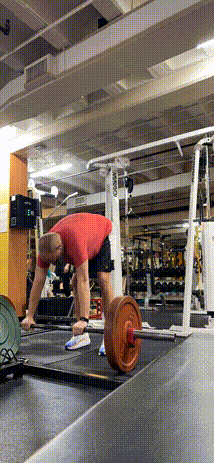 Evaluate Risks
Not much to say here right now. Sometimes just because there isn't a lot to see on the outside doesn't mean there isn't a bunch going on. There's a bunch going on.
So What Else?
Well, quite a lot actually. Disney. A revamped website. A summer in Delaware. Boating. And incredible times with incredible people!